BRINGING AN END TO
SINGLE USE PLASTICS
Poseidon Plastics is a high-tech speciality chemical company focused on developing technology to recycle PET wastes.  With our proprietary consumer/industrial waste to polyester technology, we can break down waste PET plastic (in all forms; textiles, carpets, films & PET bottles) to its base building block for remanufacture of virgin grade PET  for food-grade plastic packaging, bottles, and containers.

Poseidon Plastics Ltd ("Poseidon") was created to commercialize proprietary consumer/industrial waste to polyester technology under a joint venture arrangement between Green Lizard Technologies Ltd, Panima Capital, and Abundia Industries LLC.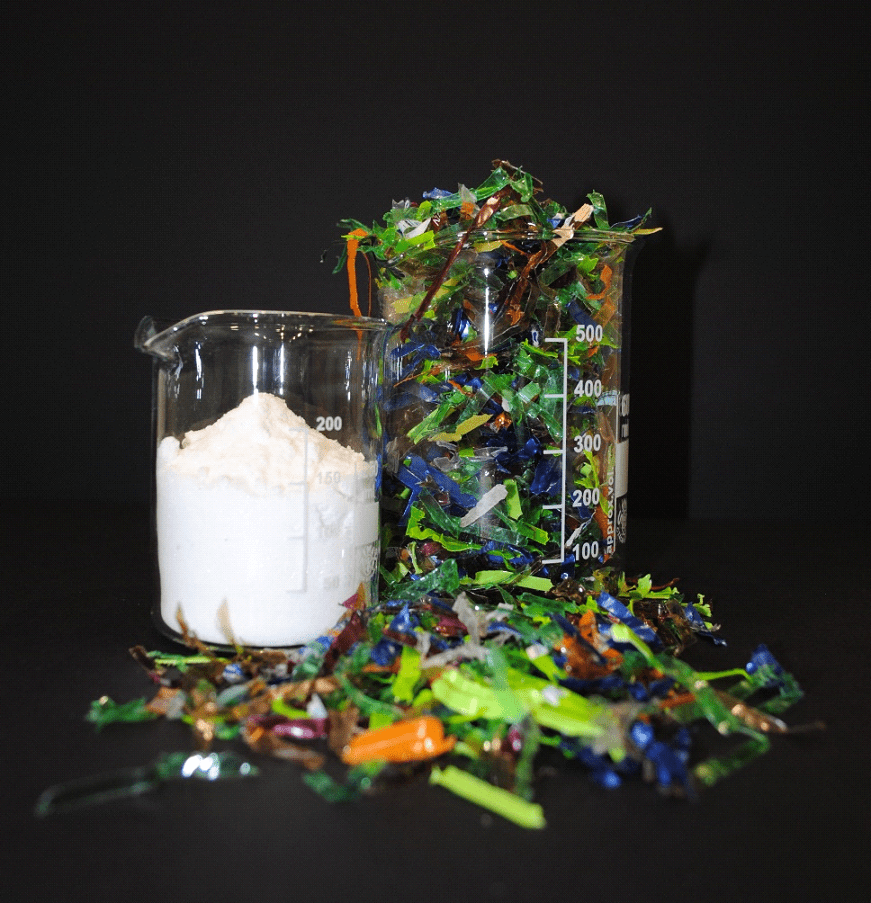 The technology has been scaled to 1,000 tons per year and has produced consumable product grade BHET (Polyester feedstock) which provides a commercially viable and scalable solution to one of the world's largest growing environmental problems, "Plastic & Plastic Drink Bottles." We are focused on mixed PET waste streams that are problematic and persistent in the environment and cannot be mechanically recycled.
MULTI-BILLION
DOLLAR MARKET
Plastic Waste is one of the most significant problems facing our global environment today, and we possess an economically viable and scalable solution to recycle plastics into usable polyester. Current annual global demand for polyester is approximately 154 billion pounds. As countries around the world put legislative measures in place to force manufacturers to come up with solutions, the need for our technology and the value proposition will increase dramatically.
•  

Our recycling process produces BHET which is the base building block for all grades of Polyester
•   

We are run by a seasoned management team with a proven track record of success in the development of clean and sustainable technologies.
• 

  We have proprietary technology with proven results.
•   

We have completed several successful test runs of the technology on various types of PET waste streams, including fibres, Jazz (mixed waste), films and bottles.
• 

  Our partnerships & pending offtakes are with credited rated counterparties.
• 

  We maintain a high future valuation and ROI based upon conservative estimates
• 

  We sit in the whitespace with an unprecedented opportunity to scale across the globe.
• 

  End product easily inserts into existing Polyester manufacturing process
 COMING SOON 
Our first 10,000TPA Facility
•

The facility is to be co-located under a joint venture off-take agreement with an industry leader engaged in the manufacture of Polyester.

•

In the meantime, we are in the process of carrying out a commercial trial with a major industry participant and a household brand owner for PET film applications.

•
We are engaging with various government bodies and industry participants to advise on policy and demonstrate how plastics can be recycled in a sustainable way to make them environmentally friendly and seen as a valuable resource rather than a waste.
•

Technology and subsequent end product has been approved for use in the manufacture of food-grade Polyester products. Tests have proven our recycled product is comparable to base/virgin Polyester material.

•

Major 3rd party conglomerates have completed sample testing within the textile, PET bottle, food-grade packaging and film material markets.
•
Industry veteran Professor Martin Atkins as Chief Technology Officer and partner (29-years at BP & 4-years at PETRONAS).
IP Attorney, with over 20 years experience in International Patent Law.
CCO of GLT | Expert in technology development & commercialisation across the Oil, Gas, Chemicals and renewables sectors.
President of Abundia Financial, over 20 years experience in senior management in roles such as CEO, COO, CFO, President and Chairman
Partner at Panima Capital, Batchelor of Science & Finance.
Founder and Chief Executive of Panima Capital, MSc Investment Management.
Partner, SquareWell Partners. Corporate advisor, activist situations and ESG specialist.